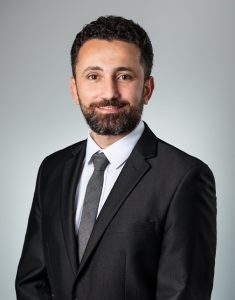 Dr. Samuel Korkis received his Doctor of Dental Surgery from the University of Damascus in 2007. From there, Dr. Korkis went on to finish a four-year postdoctoral periodontal residency in Damascus. He completed a preceptorship at the University of California UCLA in advanced prosthodontics and implantology, and earned his Master of Science and Certificate in periodontics from the University of Detroit Mercy School of Dentistry. During his senior year he was appointed chief resident, and was given the award for outstanding graduate student for his clinical skills from the Michigan Periodontal Association (MPA) in 2018.
In addition to his full-time commitment in his practice, he serves as a part-time adjunct clinical instructor at University of Detroit Mercy School of Dentistry.
Dr. Korkis's research interests include immediate dental implant placement, implant repair and key factors that contribute to the long-lasting health of peri-implant tissue.
Dr. Korkis has committed himself to following an evidence-based approach, and to providing the highest quality of ethical periodontal care.
PROFESSIONAL MEMBERSHIPS
Away from his profession and during his leisure time, Dr. Korkis enjoys playing guitar, saxophone, and clay sculpting. His favorite sports are basketball, soccer and chess.
Douglas L. Sweeney, DDS, MS
We want to thank Dr. Sweeney for the many years he has devoted to our office. Dr Sweeney will continue to serve our patients on a reduced schedule during this time of transition for our patients and referring dentists.
Please click here to read Dr. Sweeney's letter to our patients.
Meet Our Team
Our team has been with our office for many years and always take the time to get to know each of our patients. We have a family atmosphere at our office. In fact, our office manager and our dental assistant are a mother and her daughter! Our periodontists and team are looking forward to meeting you, and you can call (248) 267-8900 to schedule your appointment for periodontal treatments or dental implants in Troy, Michigan.